Why Choose Wooden Snow Fence?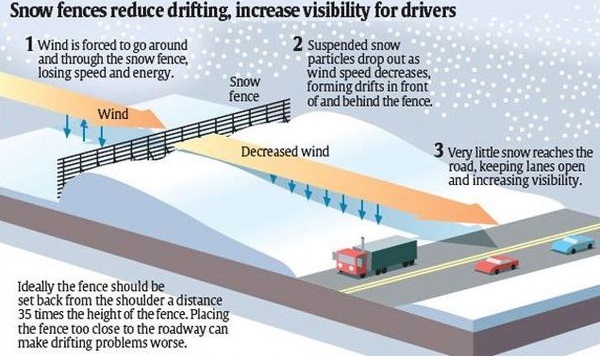 Advantages of Snow Fences
There are many different advantages of choosing to use a wooden snow fence. Snow fencing is traditionally used to prevent snow from drifting onto residential and commercial driveways, highways, walkways or even airport runways. Drifting snow can gather quickly and be both dangerous and costly to remove. Purchasing a wooden snow fence can greatly reduce the costs associated with maintaining property in the winter and drastically improve safety.
Another advantage of using a wooden snow fence is that they are easily installed and removed. This allows them to be used seasonally or temporarily to create safe walkways and paths. You can use our wooden snow fences during any season for construction fencing, to create a temporary wooden fenced walkway, for beach fencing, or many other uses.
How Snow Fencing Works
The science behind snow fencing is quite simple. A decently constructed snow fence like ours will cause the snow to drift downwind of it. An eddy will form behind the fence whenever the wind passes over it, reducing the overall wind speed. Snow drifting on the winds past a snow fence will get caught in the eddies created by the fence, and as the air slows, it will drop some of the snow just beyond it. Eventually, large mounds of snow accumulate downwind of a snow fence.
If a wooden snow fence is located upwind of a road or runway, the snow collects around the fence and doesn't blow onto the road. Ideally, the fence should be set about 35 times its height from the road.
Versatility
You can use wooden snow fences for many things other than just controlling the snow. Here are just a couple of ideas for other applications of our wooden snow fencing:
Farm and Agricultural Fencing - Contain livestock, corn cribbing, compost piles, chicken coop benching, horse corrals, animal control
Garden Fencing - Snow fencing is used for sun and wind shade, benching, and drainage in garden centers and nurseries across America.
Crowd Control Fencing - Snow fencing provides an extremely effective and inexpensive solution for crowd control. Because of its flexibility, our snow fence can easily be erected and quickly removed from large areas.
Construction Site Fencing - Our versatile snow fencing can be used to prevent unwanted encroachment around the area of your site.
Dog Fencing - Our fencing can be a low-cost solution for dog fencing and dog runs.
Sand Fencing - The same principles that affect controlling snow with our snow fence also apply to controlling sand.
Contact Us Now